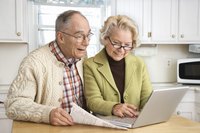 Permanent life insurance policies are designed to accumulate a certain amount of cash value, and the ability exists to manipulate these contracts to take full advantage of the government's position regarding the taxability of those cash values. A portion of every premium payment made to a permanent life insurance policy is set aside into the cash value account where it is handled in a way that is specific to the type of permanent policy that you own. If an abundance of cash value exists, you can withdraw the excess up to your basis without creating the potential for a future taxable event.
Review your most recent life insurance policy statement. Examine the section that describes your cash value account. This account is a combination of a portion of your premium payments plus any interest earned on those funds.
Contact your life insurance company's customer service department. Ask the representative to tell you how much of the cash value is considered your basis. This is the amount of money that was actually contributed by you and not what was added to the account as a result of positive investment performance.
Discuss your available options with regard to your life insurance policy's cash value with a qualified financial professional. There are consequences to a cash value withdrawal that should be discussed and considered before actually initiating any action.