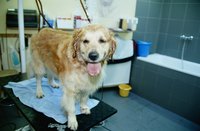 Having a dog can be a rewarding experience. Unfortunately, she can be the carrier of parasites, such as fleas and ticks. Usually, flea bites are not a serious problem for dogs; however, if your dog's immune system is low or your dog has an allergy to fleas, she can experience a number of problems including anemia, skin irritation, and in extreme cases, death. Ticks are a more serious problem since they carry diseases, such as Lyme disease. Treating your dog for fleas and ticks can be expensive, but there are things you can do at home to keep them off your dog for little money.
Things You'll Need
Dish detergent
Flea shampoo
Water
Towel
Dog food
Safflower oil
Powdered seaweed
Apple cider vinegar
Bathing for Fleas
Mix one tbsp. of dish detergent into a bottle of your preferred brand of flea shampoo and shake it well. The dish detergent will help break the surface tension on the water and keep the fleas from floating, drowning them instead.
Wet your dog's ears and neck before putting him in the tub. Use your shampoo mixture to lather these areas thoroughly before beginning the bath. Normally, the fleas will run for higher, dry ground when the dog is bathed and then move back to the rest of the dog's body once the bath is done. If you lather the higher areas first, the fleas will have nowhere to go.
Bathe your dog's entire body, being sure to scrub under his arms and his entire tail.
Rinse thoroughly with clean water. Either towel or air-dry his head and body.
Food for Fleas
Provide your dog with a high-quality dog food to help build up her immune system. Fleas prey on dogs with weakened immune systems.
Sprinkle one tsp. of safflower oil on the top of your dog's food every day. You can also try powdered seaweed or kelp. Fleas do not like the taste of these and will avoid biting your dog.
Add one tbsp. of apple cider vinegar to your dog's water daily. Fleas also dislike the taste of vinegar.
Preventing Ticks
Keep long grass cut short. Ticks like to climb to the top of long blades of grass and grab hold of a dog when it walks by.
Pull all weeds. Ticks will also use weeds to wait for a dog to pass by.
Keep your yard pest free. Discourage animals that carry ticks such as birds, deer and squirrels.
Check your dog when he comes in from the outside. If your dog has been out in the woods or playing outside for long periods in an area infested with ticks, bathe him within 30 minutes of coming inside. Ticks do not attach to the skin for about 30 minutes. The bath should shake free any unattached ticks that you missed during your inspection.