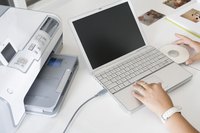 Teletrack is a credit reporting agency, similar to TransUnion and Equifax, that issues reports about your credit history to businesses, including furniture stores and auto finance companies. Teletrack, like other credit reporting agencies, operates under the Fair Credit Reporting Act (FCRA)--a federal law that allows you to obtain a copy of your credit report so you can check it for accuracy. To get a copy of your Teletrack report, download a form from the company's website and mail it to the credit reporting agency.
Things You'll Need
Internet connection
Internet browser
Adobe Acrobat Reader
Printer
Pen
Copier or scanner
Envelope
Postage stamp
Open your computer's Internet browser.
Type www.teletrack.ca/consumers/forms.pdf into your browser's URL box.
Press the "Enter" or "Return" key. The Teletrack "Consumer Report Request" form will appear on your screen.
Click "File," "Print," "OK" to print the Teletrack form.
Make a copy of your driver's license on a copier or scanner.
Place the completed form and a copy of your driver's license in a envelope.
Mail the envelope to Teletrack, 5550-A Peachtree Parkway, Suite 600, Norcross, GA 30092, Attention: Customer Service.