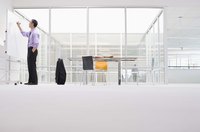 Organizational structure, according to Angelo Kinicki and Robert Kreitner, authors of "Organizational Behavior," is a system of coordinated activities by one or more persons centered upon four basic dimensions of organizational structure; a common goal, hierarchy of authority, coordination of efforts and division of labor. Implementing these four steps will root out inefficiency, bringing structure to any workplace.
Things You'll Need
Company
Employees
Business plan
Organization mission
Organization vision
Organization values
Organizational Structure
Create unity. Develop a common goal within the company. Setting common goals within an organization starts with creating operational policies, procedures and objectives. The formation of policies and procedures will instill security, trust and job satisfaction within the team. Rallying staff around a common goal will give employees purpose as well as unity.
Establish hierarchy of authority. Clearly understanding the delineation of responsibilities is a key element in establishing organization structure. Whether your line of responsibility starts from the top, with a board of directors or bottom with customers or staff, you must have an organizational chart showing the division of labor and authority.
Create an organizational chart. An organizational chart is an illustration depicting the chain of authority and lines of communication within a company. Typically, organizational charts have a family tree-like pattern. Reversed organizational charts portray customers or staff in the position of power; ultimately, supplying the organization from the bottom up. Consequently, if you serve the needs of the customer or staff they will in turn serve the needs of the organization.
Establish a division of labor. In addition to demonstrating a hierarchy of authority, an organizational chart clearly divides labor between executives, managers and front-line team members as well as spans the line of control. A narrow span of control signifies a low number of employees reporting to any given manager. According to "Organizational Behavior," wider spans generally mean larger employee groups; the larger number of employees, the more autonomy and empowered are the staff.
Design a structural system. Once you have established company goals and values, a hierarchy of authority and created an organizational chart, the next step is to establish tasks, workflow, procedures and rules within those workgroups. These additional steps will help reinforce structure and solidify the organization's survival.