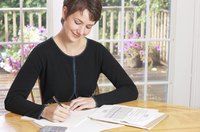 If you own a small business and bill customers for their purchases over time or allow customers to make purchases on credit, you may consider becoming a data furnisher for one or more credit bureaus. This will enable you to make monthly payment reports on your customers that will appear on their credit reports. In order to become a data furnisher to a credit bureau, you must procure membership in the credit bureau's business reporting program.
Choose the credit bureau you wish to report to. If you need to make reports to all three credit bureaus, you must be approved separately by each company.
Call the credit bureau and ask to be transferred to the Business Services department.
Request an application for membership in the business reporting program. If you are applying to become a data furnisher with Equifax or TransUnion, you will have to service a minimum number of consumer accounts to quality. Experian does not have this requirement.
Fill out the application and submit it, along with the necessary documentation proving that you own a legitimate business and maintain the appropriate number of consumer accounts.
Wait for a representative from the credit bureau to contact you regarding your application. Schedule a time for an on-site inspection of your business. The credit bureau will send a representative to your business to ensure that it physically exists. You must pay an inspection fee for this process.
Sign a Data Furnisher's or Service Agreement with the credit bureau once your application is approved. This document states that you agree to make regular accurate reports on your customers.
Purchase and install the required software for credit reporting. All three credit bureaus required data furnishers to use Metro 2 and e-Oscar to keep payment records and make consumer reports.
Record all of your customers' personal information within the Metro 2 program. Update the information monthly whenever your customers make payments. The program will automatically file reports to the credit bureau which will then insert each report into the corresponding credit file.