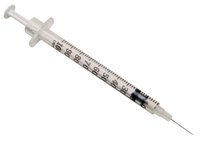 Winstrol, or stanozolol, is an anabolic steroid that is legally used for treating severe swelling in the face, throat, extremities and bowels. It can also be used legally by people who have cancer or extremely emaciated people who need to put on weight. Bodybuilders often use the drug illegally to maintain muscle size while "cutting up," or increasing definition before a bodybuilding contest. Although there are several ways to inject this steroid, many choose to use a shot in the buttocks because there is more padding in this area to absorb the pain.
Things You'll Need
Rubbing alcohol
Cotton
Vial of Winstrol
22- or 23-gauge syringe with 1 to 1.5-inch needle
Adhesive bandage
How to Inject Winstrol in the Buttocks
Choose a private area, such as your bathroom, to administer the shot. Decide which buttock you want to inject. Soak a piece of cotton with an ample amount of rubbing alcohol. Rub the alcohol in a wide area on the upper side of your buttock, away from the hip bone.
Soak another piece of cotton in rubbing alcohol. Dab the cotton on top of the vial of Winstrol. Pull the plunger out of the syringe back to get a little air into it. Hold the vial upside down, then stick the needle of the syringe into the vial. Push down on the plunger until all the air is out.
Keep the the syringe upside down. Slowly pull the plunger down and draw out the proper amount of medicine, based on the doctor's recommendations. If there are bubbles in the syringe, push all of the medicine back into the vial until you are able to draw just the liquid. Remove the needle of the syringe from the vial and place the vial on the counter.
Position the syringe in your hand as if you are throwing a dart. Turn your upper body toward your buttock and inject the needle into your buttock with the hand closest to it. Draw back on the plunger slightly with your thumb to make sure there is no blood and that you did not hit a blood vessel. If there is no blood, push the plunger down and deliver all of the medicine. If you see blood in the syringe, remove he syringe, force the blood out and insert the syringe in another part of your buttock, or in your other buttock. Apply alcohol after you remove the syringe. Place an adhesive bandage on the insertion point.