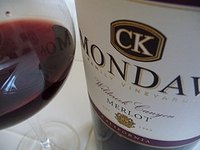 When you go to a party you want to bring a really nice bottle of wine. The problem is that you don't want to pay $50 or even $100. Finding a good cheap wine doesn't have to be difficult. There are many great options for every kind of wine drinker.
Start with a budget. Whether you are buying one bottle of wine or an entire case (12 bottles) set a budget for how much you want to spend. I'll give you three categories to help you set your expectations.
Under $10: You can buy a drinkable decent wine that will be widely accepted at most parties. Most wine shops will have 2 or more bottles of wine they will recommend at this price point.
Under $20: If you can spend up to $20 there will be plenty of great highly rated wine choices for you.
Under $50: Under $50 may not seem like a cheap option, but if you can spend up to $50 you will be able to buy wine that has the same qualities as many $100+ bottles.
Go with what you know. If you are new to wine then it would be helpful to go to a few wine tastings to become familiar with the different varietals of wine. Once you have the basics down you will start to recognize what you like and dislike.
When I go looking for a good cheap white I usually look for Chardonnay or Sauvignon Blanc. For reds I like to just stick with Cabernet Sauvignon.
Do research online. There are literally 100s of wine stores online that let you search through their online store. Wine.com has a great list of wines rated over 90 points that sell for less than $20. If you buy wine frequently you can pay $50 to get free shipping for the entire year.
Talk to the staff at your local wine shop. Ask them what their favorites are and why. Attend their free wine tastings.