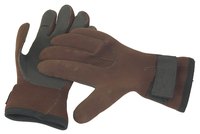 Steel is blackened with heat, chemicals or a combination of both. Steel has two oxides: red and black. Red oxide is what we know as rust. It is corrosive and destructive. Black oxide provides a protective, abrasion-resistant coating that prevents rust formation. Depending on the method used, black oxide can be applied in an even finish. According to chemical engineer Fred Perlstein of the Frankford Arsenal, "The black oxide and manganese phosphate coatings (tested) were approximately equal in abrasion resistance and superior in this regard to the other black coatings tested."
Things You'll Need
Several soft cloths
Acetone
Petroleum-based penetrating oil
Face shield, protective clothing, heavy leather work gloves
Small torch
Polyester scrub pad
Wipe the entire item with a soft cloth dipped in acetone to remove any dust, oils or other buildup. Blot dry with a clean paper towel. Use petroleum-based oils for tools and items that will not be used to prepare food.
If the part or item will be used for cooking or eating, substitute vegetable oil and heat the item on a stove or in an oven for one hour at temperatures below 550 degrees Fahrenheit (vegetable oil has a flash point of 600 degrees Fahrenheit). Otherwise, proceed as follows.
Wipe the entire item with a thin coating of petroleum-based penetrating oil.
Don a full face shield, protective clothing ("leathers") and heavy leather gloves. Work in a well-ventilated area, with shop doors and windows open. Heat the item with a torch until it begins to smoke and turn black.
Spray the item with penetrating oil until it is dripping wet. Heat the item again until it begins to smoke. The petroleum molecules will react with the molecules of heated steel to form a chemical bond, thus sealing the metal. Allow the item to cool to room temperature for at least 60 minutes.
Once the item cools, remove any burnt penetrating oil using acetone and a polyester scrub pad. Spray it again with penetrating oil and wipe away any excess with clean rags.