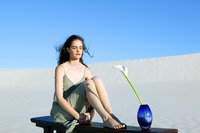 It's true, wrinkles are a natural part of the aging process. However, many people find them completely unappealing and desperately try to eliminate them. If you have developed wrinkles in the skin above your knees, there's no need to cover them with long skirts or a pair of slacks. Using a few simple steps you can smooth out these knee wrinkles and refresh the appearance of your skin.
Things You'll Need
Loofah or bath brush
Exfoliating scrub
Soap
Water
Moisturizer
Clean cotton pieces
Ankle weights
Sunscreen, SPF 30+
Fresh fruits
Fresh vegetables
Dairy products
Whole grains
Daily Routine
Exfoliate the skin above your knees every day while taking a bath or shower. Use a loofah, bath brush or exfoliating scrub, and massage your skin in a circular motion. While exfoliating, use forceful, yet gentle strokes. For best results, focus on each knee for at least two to three minutes. Exfoliating the skin above the knees removes the outermost surface of dead skin cells, ultimately exposing the fresher skin cells underneath.
Apply a rich moisturizer to the skin above your knees after bathing. Keep a bottle of moisturizer in your bathroom. As soon as you are finished bathing, gently dry the area with a towel. Do not rub the skin; instead, gently pat the area with a towel until it is dry. Slather on a generous amount of moisturizer while your skin is still a bit damp; this helps to lock in moisture. Select a moisturizer based on your personal preferences. For best results, apply moisturizer in the morning and at night.
Add knee exercises to your daily routine. Leg extensions are an effective exercise for smoothing out wrinkles above the knee. If you have access to a leg-extension machine at the gym, do at least two or three sets of 15 repetitions per day. If not, do leg extensions at home. Wear ankle weights and sit on a chair or bench. Again do at least two or three sets of 15 repetitions, raising and lowering your legs with control. Yoga and Pilates are also extremely effective exercise programs for keeping the knees strong and flexible.
Apply sunscreen with at least SPF 30 to the skin around your knees before exposing them to sun. Although many people are careful to apply sunscreen to their face and hands, many people forget their legs. However, sun damage is a significant cause of skin wrinkles in all areas of the body.
Maintain a well-balanced diet to improve the overall health of your skin. Aim for a diet high in fresh fruits and vegetables, dairy products and whole grains. Avoid fatty foods and greasy foods. The vitamins and minerals taken in through your diet not only improve your overall health, but also keep your skin flexible and healthy.