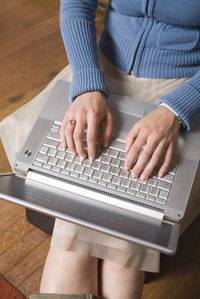 Craigslist classified ads appeal to a wide variety of online visitors, giving businesses a prime opportunity to generate leads for free. The process involves creating ads that grab attention and convince visitors to get in touch with your company. Besides making the ads compelling, you must also post your ads frequently to make this lead-generation strategy work.
Create An Account
To post ads, you must set up a free account on Craigslist. Once you have an account, click the "Post to Classifieds" link on Craigslist's home page to create your ad. Select the type of posting –– service businesses can click "service offered" while businesses that sell products must choose "for sale by owner" or "for sale by dealer." Once you click "for sale by owner," select the type of product you want to sell, or choose "business/commercial – by owner" to be taken to the screen for inputting your ad.
Refine Your Webpage
For the most effect, your ad needs to include both a website address and a phone number to encourage prospects to inquire about your business. Set up a unique website page for Craigslist visitors, and provide the link in your ad. Use headlines, copy and images that appeal to the specific audience you hope to attract. For instance, if you sell real estate and want to appeal to a specific neighborhood, mention that area in the headline and make sure all content appeals to people who want to list or buy property in that area. Setting up a special page also helps you track how much traffic the ad is generating. To make tracking easier, automate the process with a service such as CraiglistTracker.com.
Develop Your Ad
Start your ad with a short headline that grabs the attention of your target market. The headline can also be used as the posting title. Add brief, benefit-oriented copy that explains what your company does, what you offer and why you're the best choice. Include a strong call to action, such as encouraging people to visit your website for a free report. If you use images in your ad, use a service, such as Image Shack, to create hyperlinks to your website from the graphics.
Post and Repost
Plan to repost your ads at least once or twice a day so they reach as many people as possible. Post the ads when your target market is most likely to see them. For instance, if you want to appeal to business owners, post your ads from Monday through Friday during regular business hours. If you want to post more than one ad, change the posting title slightly and use a different location so Craigslist doesn't remove your ad due to reposting too often. Watch your traffic reports to analyze how many people are going to your website from the ad. Finesse your headlines and posting titles to make them draw even more leads.