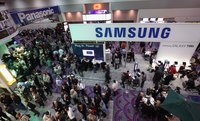 Tabletop displays offer the advantage of being easy to carry and set up at trade shows and other events without requiring lots of manpower or multiple carrying cases. Once you find out the size of the available booth space, the key is to create an attractive exhibit that grabs attendees' attention. The exhibit should also make attendees want to stop and learn more about your product or service so you get the most value from your booth rental fees and the time and resources you put into developing the display.
Decide on Message
The message you want visitors to see dictates the setup of your display. For instance, if you plan to encourage people to sign up for your email marketing newsletter, your display needs to provide a message that promises a benefit for signing up for the newsletter. On the other hand, if you want people to buy a product from you after they see the display, you need to set it up so there's room for sales staff to point to the display to answer questions. The display also needs to include language that makes attendees feel confident about buying, such as by offering a money-back guarantee or a special show price.
Choose Type
Most display systems fall into one of three categories. A panel system consists of up to five panels that hinge together to form the display. Pop-up displays use tubes and connectors for set-up. Pop-ups are lightweight, allowing you to carry them in a large bag and making it easy to transport them from show to show. The third option is to use a briefcase tabletop display. Everything you need for the display is contained in an oversized briefcase, allowing you to open the case and immediately show the contents.
Create Graphics and Copy
The display must get your message across in just a few seconds and from a distance. Use large, bold headlines consisting of just a few words that indicate a benefit. For instance, if you are introducing a new cleaning product, you might say "New! Eliminates pet odors instantly!" as your headline. Add graphics that relate to the headline and what you're selling. Graphic design programs can be used to create the panels, or you can enlist the help of a graphic designer experienced in developing panels. Once your design files are finalized, a printer will then use either magnetic strips, fabric or stiff, durable paper on which to print the display.
Gather Rest of Supplies
To make your display more attractive, bring risers and tablecloths to the show. Tablecloths can be custom-printed with your company name and logo, or you can choose a solid color that complements your display. A simple lighting system comes in handy to highlight your exhibit. To keep the setup mobile, use directional lights that attach to the top of the display. Finally, bring takeaway information such as brochures, flyers or postcards so attendees will have an easier time remembering you. Practice setting up your display and the other elements before the show to identify any changes needed to make the display more appealing and noticeable.