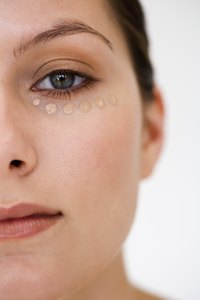 Concealer is a tricky cosmetic to apply. It must be perfectly blended or it can look unnatural. Choose a concealer one shade lighter than you skin tone. The product will look slightly darker once you apply it to under-eye circles. Concealer is available in various forms, but liquid is the easiest to apply and blend.
Use your ring finger or a clean makeup sponge to apply concealer. Work gently to avoid pulling or stretching this delicate skin.
Dab the concealer onto the bottom of the under-eye circle.
Blend the edges outward so the layer of makeup becomes thinner and eventually barely covers the skin. Be careful not to wipe all of the concealer away, but also avoid leaving a too-thick layer of makeup.
Powder lightly over the concealer to help set it in place.