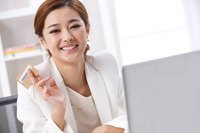 If you're a sole proprietor or in a partnership, putting business expenses on your credit card can work out fine. The biggest challenge is keeping accurate records of which expenses are business and which are personal. If your business is a limited liability company or S corporation, it's risky. Those business structures protect your personal assets from business debts. Putting the debts on your personal card removes that protection.
Business vs. Personal Expense
One advantage of a business credit card is that you know everything you charge is a business expense. If you charge everything to your personal card, it's not so easy. Suppose you don't look at the credit card statement until your next estimated tax payment is due. By then you may not remember which items were business charges. If you don't remember all your business spending, you can't write it all off on your taxes.
Track Your Spending
If you're ever audited, the IRS won't be happy if you can't justify the expenses you wrote off. Don't wait on your credit card statements to figure out which expenses are for business and which are personal. Make a record of what you bought as soon as possible -- ideally, when you actually make the purchase. Use whatever method works best with your schedule, whether it is by noting each business purchase in a notebook or smartphone, or going over sales receipts at the end of the day. Keeping accurate records not only helps you catch potential write-offs, it also lets you know how much you're spending on your business.
Satisfy the Taxman
The IRS requires more than just scribbled notes to prove your deductions are real. Keep files of sales receipts and invoices along with your credit card statements so that you have proof of every business purchase. If you combine business and pleasure travel on your card -- taking your spouse on a business trip to New York, say -- be extra careful about separating business from personal expenses. If you take a client out for lunch while your spouse is shopping, for example, note the name of the client in addition to keeping the receipt. The IRS knows a lot of business people abuse the travel deduction so it subjects write-offs for travel and entertainment to close scrutiny.
When You're Partners
If you're part of a partnership, make certain you and your partners are on the same page about spending. You may think the purchases you make on your personal credit card are good for the business, but your partners might object that you're making purchases they don't approve of. The best way to head off trouble is to create a partnership agreement in writing that details the rules governing credit card purchases for business expenses. This way, you can use your card in full confidence you'll be repaid.