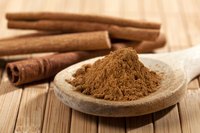 Cinnamon isn't just a spice that helps make baked goods taste delicious; it may also have some health benefits. One of these benefits is the potential to lower blood sugar levels, making it a healthy addition to a diabetes diet. Check with your doctor before increasing your cinnamon intake, as it may not be a good idea for everyone.
Cinnamon and Blood Sugar
A systematic review published in the Annals of Family Medicine in 2013 found that cinnamon was associated with a reduction in fasting blood sugar levels but that it still isn't clear what the preferred dose is to achieve these benefits. A substance found in cinnamon called cinnamaldehyde may be responsible for this benefit, as it appears to improve glucose metabolism.
Necessary Amount
A study published in Nutrition Research in 2012 found that a daily dose of 120 milligrams of cinnamon extract -- the equivalent of 4.8 grams of cinnamon -- improved blood sugar control. This is about 1.5 teaspoons of cinnamon per day. The amount of cinnamon needed might differ from person to person, however, and more research is needed.
Potential Considerations
Cinnamon can't replace diabetes medications, but it may be a useful adjunct to these medications and help lower blood sugar levels by up to 5 percent, according to a meta-analysis published in the Journal of Medicinal Food in September 2011.
The way cinnamon is processed and the source of the cinnamon may affect how beneficial it is for lowering blood sugar, so not all types of cinnamon may work the same way.
Cassia cinnamon, which is the type most often found in grocery stores, may contain a lot of a substance called coumarin, which can cause liver damage in sensitive people. Because of this, it's better to choose Ceylon cinnamon, according to an article published on the NPR website in December 2013.
Avoid using medicinal amounts of cinnamon if you're taking blood thinners or if you have a hormone-sensitive disease, as cinnamon may interact with blood thinners to increase their effects and produce both estrogenic and anti-estrogenic activities, according to the Memorial Sloan Kettering Cancer Center.
As Part of a Healthy Diet
Adding cinnamon to sweet baked goods, such as muffins, pancakes, waffles and quick breads, will make it possible to use less sugar, as it enhances the sweet flavor of the sugar. Sprinkle it on your oatmeal, add it to smoothies, drink a chai tea made with cinnamon or include it the next time you make granola. You can also include cinnamon in some savory dishes, including roasted sweet potatoes, butternut squash soup, curries, black beans and spice rubs for meat dishes.