Things You'll Need
At some point, you'll likely have a small speck or some kind of foreign body enter your eye. The kind of care you need depends on the composition of the foreign body and whether it is on the surface of your eye or more deeply lodged. If it is a piece of metal, glass or wood, or if the particle is actually embedded in your eye, this is a more serious problem that calls for a trip to the doctor, perhaps even to an emergency-care facility. If the debris is an innocuous substance, like a bit of dirt, and is on the surface or just under the upper or lower eyelid, it's usually a minor problem that can easily be taken care of at home.
Step 1
Avoid rubbing your eye. Whether it is a minor or serious problem, rubbing the eye will not help and may further damage the eye.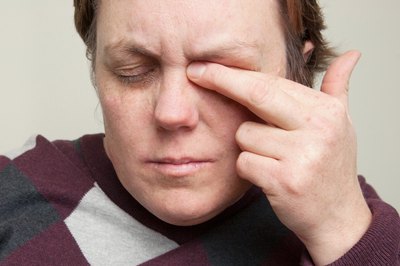 Step 2
Conduct a quick self-diagnosis to determine the seriousness of the problem. A mild amount of irritation, tearing and redness in your eye is to be expected, even with a small and innocuous piece of debris. But the following symptoms should be a cause for concern and may require medical attention:
Moderate to extreme irritation Scratching Soreness Moderate to extreme redness Sensitivity to light Moderate to extreme tearing Decreased vision Intense pain Difficulty opening your eye
Step 3
Cover both eyes with a clean compress if you have determined that the debris needs medical attention. Covering both the affected and unaffected eye is important because if the unaffected eye stays open, the pupils in both eyes will change in reaction to light, and this may make the problem worse. See your doctor or ophthalmologist as soon as possible.
If you have determined that the debris can be removed at home, move on to the next step.
Step 4
Wash your hands with mild soap and water before attempting to remove the debris yourself.
Step 5
Take your upper lid and pull it down over your lower lid. This will make the eye tear and may flush the debris from your eye. If this doesn't work, move on to the next step.
Step 6
Open your eyes. Tilt your head to the side. Take a medicine dropper or eyedrops and drop water or solution over your eye. This may flush out the debris. If this doesn't work, move on to the next step.
Step 7
Moisten a cotton swab with water. Go to a mirror in a well-lit room. Pull down your lower eyelid and touch the debris gently with the swab, which should lift it off your eye. If you can't see the debris but can feel it, you may want to get someone else to try the swab method.