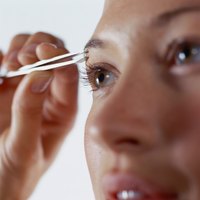 Overplucking your eyebrows may aggravate you, especially if you are planning to attend an event or go out for the evening. Fixing your overplucked eyebrows is possible by using a few different methods, depending on your own makeup supplies as well as your usual eyebrow style. Although fixing overplucked eyebrows does not require extensive beauty and makeup skills, it is best to have patience while completing the touch-up to ensure your eyebrows look natural and well done.
Things You'll Need
Eyebrow pencil
Eye shadow
White outlining stick
Tweezers
Magnifying mirror
Tissue
Look in a magnifying mirror to identify the areas of your eyebrows that seem bare or missing.
Use a white outlining makeup stick to draw an outline of the eyebrows you wish to have (which will help with guidance when you are filling them in). Browse various magazines and makeup communities online to find eyebrow shape inspiration.
Brush in the eyebrow color using an eye pencil or loose eye makeup (eye shadow) or powder. Test the color of what you are applying on a tissue to compare the color to your natural eyebrows.
Begin in the middle of your eyebrow to spread the color evenly, rather than having very dark or light spots at either end of your eyebrows. Use soft, light strokes to apply the color to your already existing eyebrows, slowing making your way to fit the outline you created.
Fill in any areas that appear missing and stop to check your progress in a mirror periodically while filling your eyebrows in. Compare each eyebrow with the other to ensure they are evenly colored in.