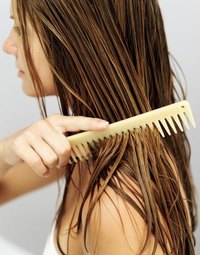 There are many reasons why split ends occur. Not trimming the hair regularly is the main cause of split ends. The ends of the hair could be over exposed to the sun and also could have damage from hair dryers and straighteners. Also, as your hair grows, the natural oils from the scalp may fail to reach the ends of the hair making it dry and brittle. Coloring may also cause dry and brittle ends that may lead to split ends. Poor quality brushes and combs may also cause split ends. These are the steps of preventing split ends.
Things You'll Need
wide toothed comb
conditioner
Have a trim regularly to prevent split ends and to also trim split ends. Every three to six months is okay. Use a comb and not a brush on wet hair. Using a brush on wet hair may cause it to split
Use a deep conditioner on your hair every week especially if you have chemically treated hair or you use heat straighter. Conditioning hair prevents split ends
Avoid excess heat and over brushing your hair. Do not brush or shampoo your hair before any chemical process. Buy wide toothed combs to comb wet hair.