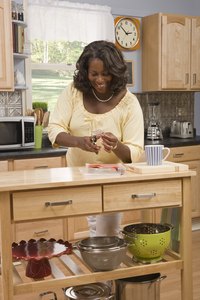 Couponers who utilize the binder method, which is the use of a three-ring binder and baseball card holders to sort coupons, place their coupons into individual categories. This allows the couponer to quickly find a needed coupon while shopping or preparing for an upcoming shopping trip. The more specific the categorizing is within the couponer's method, the easier it is to locate the coupons at first glance.
Divide your coupons into stacks of food and nonfood items. For example, add spices and condiments to the food category, but place hairstyling products and dish detergent coupons in the nonfood items pile. Check for expired coupons while sorting through your stack.
Flip through each stack to determine what subcategories you will need. Some couponers divide their coupons by the aisle of their favorite grocery store. For example, they put all the coupons for items found in aisle 1 items on the same page, then all the coupons for aisle 2 on the next page. This works best for those who only shop at one store and know the stock for that store well. Other couponers divide the coupons by major categories, such as frozen foods, vegetables, health and beauty items, and canned goods.
Label each section with the corresponding category. A divider within the notebook works best to easily see the difference between the sections.
Place the coupons for each section within their appropriate categories. Most stores keep the food items together in one section and the nonfood items together in another section. Even if you do not arrange your coupons by aisles, it might be easier to have all the nonfood item coupons together and the food item coupons in a separate part of the binder.