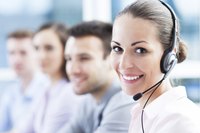 It's frustrating to pay full price for a product only to see prices fall a few weeks later. If you've noticed a price drop on a product or service you've already purchased, reach out to the business in question. You may be able to swap the item through a normal return policy, and some businesses offer special refund options when prices drop.
Refunds and Returns
Research refund and return policies for the company in question. Many retailers offer returns for products purchased at a store or online during a certain period. Some retailers may offer hassle-free returns within 30, 60 or even 90 days of purchase. On the other hand, some retailers may disallow refunds altogether or only offer store credit unless circumstances are extreme.
Price Drop Services
Talk to a business customer service representative about special options regarding price drops. Some services that typically disallow refunds, like travel and airfare providers, offer price assurance programs on purchases. For example, some airlines will refund the difference if you contact the airline about a price drop. Others will offer the difference as customer credit, so you can get a price break on your next purchase.