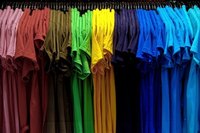 If writing is the dream job for a slacker, then writing slogans for T-shirt companies is the top of the mountain. Think about it: Where else can you get paid as much as $100 per word? Try asking for that from your next freelance submissions...
As a professional slacker-in-training, I've successfully sold T-shirt concepts to three different websites, earning enough beer money to last me a year. If you've got the same career ideas in your head, follow my tips to get the most money for your slogans!
Things You'll Need
Writing for t-shirt manufacturers is no different from writing for any other market. You're not going to be able to make any money if you don't have some actual content to sell. The first step has got to be coming up with some actual content. And remember, just one good idea usually won't cut it. Save your ideas for slogans up until you have at least thirty or forty. Carry around a small notepad, so you can jot ideas down as they hit you.
Your next step is to wake up and join the digital age. Use your computer to make the submission process a whole lot more organized. Keep a running spreadsheet of all of your ideas. Make sure to remove each one as you successfully sell it, to keep you from submitting it elsewhere. Almost all T-shirt websites demand exclusive use of your concept, so you won't be able to use the same idea twice.
Next, spend a few hours researching your target market. Find T-shirt companies on the internet, and make notes about their submission requirements on a spreadsheet. Mid-range websites like Fusilly and Snorgtees accept email submissions, but some of the bigger operations like T-shirt Hell have their own submission forms you'll need to use.
Now that you've got some targets in your sights, start firing away! Remember that this is a numbers game, so the way to make some serious bucks is to get as many of your concepts out to as many manufacturers as possible. Don't wait for a response from one website before you send the same ideas out to others. In many cases, especially with the bigger businesses, you'll only get a response if they loved your idea and want to buy it. Make absolutely sure not to sell the same idea to two different websites, though!!
Finally, remember to keep at it. You may not get the response you want with your first round of submissions, so hang in there! Patience and persistence is the name of this game.