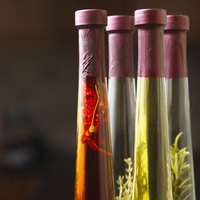 Since ancient times olive oil has been known for its restorative and moisturizing qualities. Its properties make it ideal for use as a face moisturizer to safeguard against wrinkles and keep skin radiant. Here's a simple, inexpensive recipe that you can use daily.
Things You'll Need
Small jar or bottle
1/2 cup extra virgin olive oil
Your favorite essential oil
Pour the olive oil into the jar. It's important to use extra virgin olive oil; the darker olive oils tend to have a very pungent aroma, which is not necessarily pleasant to smell all day or night long.
Scent the olive oil according to your preferences. Add a few drops of the essential oil of your choice, adding a little more if you like a stronger scent.
Screw the lid on firmly to store your oil. Apply generously to the face every morning and/or evening.