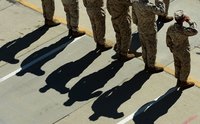 An overseas security job might mean you work in the military, for the security division of a government department, or for a private military contractor. Each of these options has advantages and each has drawbacks. The prior training and experience required for each is similar and each offers additional, specialized training. Working overseas offers attractive tax advantages when funding a retirement plan, but you should carefully weigh the risks against the rewards.
Join the military. There is no requirement for prior training, although you must have a high school diploma or GED and be able to to meet the physical requirements and pass a background investigation. Paid training is provided. The base pay for these positions starts at $1,468 per month or $17,616 per year.
Apply to the U.S. State Department for employment as a Foreign Service diplomatic security protective specialist. U.S. citizenship and three years prior security experience are required. A background investigation for a top secret/sensitive compartmented information security clearance is also required. An additional 19 weeks of training at the Diplomatic Service Training Center is provided prior to deployment. The base pay for these positions starts at $3,728 per month or $44,737 per year.
Apply to a private military company as a contractor. Private military companies, such as Academi or DynCorp -- two of the largest U.S.-based PMCs -- provide contract security overseas. Prior military experience or military and law enforcement experience is required. While salaries are not publicized, in 2007, Secretary of Defense Robert Gates said that private military contractors would "often pay six-figure salaries to former military personnel."