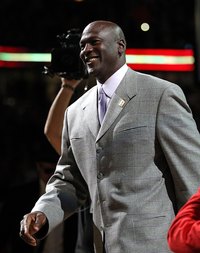 There are people who go bald and people who choose to go bald. The bald look by choice become fashionable in the '90s when a clean-shaven Michael Jordan became a world icon on and off the basketball court. Shaving your own head can be tricky, but it can be done. Shave right after a shower. It will make the hair softer to work with and reduce the chance of razor bumps.
Things You'll Need
Electric Trimmer or Razor
Shaving Cream
Razor
Cut off as much hair as possible with an electric hair trimmer or electric razor. Start right down the middle and work out to the sides.
Apply a generous amount of shaving cream all around the head.
Shave using slow, even strokes. Attack the soft or light hair first, then tackle the stiff hair in the back. Rinse the blade often, but try not to shave the same area twice since that can lead to razor bumps and nicks.
Use soap and water to wash off the remaining shaving cream. Apply an aftershave that contains aloe vera or Vitamin E to the whole head. Do not use aftershave with alcohol since that will dry out the skin.