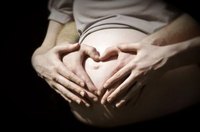 Pregnancy is often a beautiful, joyous time for fathers and mothers alike. Unfortunately, various new or chronic medical and health issues can affect the mother. Examples include asthma, a common medical condition that involves difficulty breathing due to a tightening of the airways. Women who had asthma before they became pregnant may find the stress of pregnancy provoking new asthma attacks. It is crucial to treat asthma attacks quickly. However, all treatments must be proven safe for mothers and not enter the woman's bloodstream where it can affect the baby. Learn how to use a nebulizer to treat asthma when pregnant while taking into account the specific needs of motherhood.
Things You'll Need
Inhaled corticosteroid
Beta-agonist rescue inhalant
Choose an inhaled corticosteroid. In general, corticosteroids are safe for both the pregnant woman and the baby. Corticosteroids are used as a preventive and symptom control medication for long-term asthma relief. Examples include beclomethasone, fluticasone and budesonide.
Select a rescue inhalant. These are used to quickly relax the airways to make breathing easier in the midst of an attack. Beta-agonist medications are typically accepted as safe for women in all stages of pregnancy. Examples include salbutamol, or albuterol as it is referred to in North America, and terbutaline.
Connect the nebulizer to a reliable power source using its grounded electrical cable.
Hook up the breathing apparatus for the nebulizer. Connect one end of the rubber hose to the air output nozzle. Plug the other end of the hose into the dispensing cup.
Administer a dosage of the inhaled corticosteroid or rescue inhalant into the dispensing cup. Use the corticosteroid if you are not currently experiencing a full-blown asthma attack but simply want to control the symptoms. Use the rescue inhalant if you are in the midst of an attack and wheezing or breathing heavily.
Attach a mouthpiece to the cup, or a breathing mask. Pregnant women who are confined to a bed may prefer a breathing mask for hands-free operation. Place the mouthpiece in your mouth, or put on the mask using its attached plastic string.
Turn on the nebulizer. The internal air pump in the nebulizer will dispense a pressurized stream of air into the dispensing cup. This vaporizes the asthma medication into a fine mist, which you then inhale.
Turn off the nebulizer when the medication is gone and the mouthpiece or mask does not emit mist. This may take up to 45 minutes, depending on your rate of breathing.