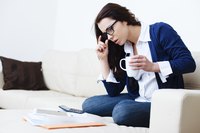 Defaulting on a student loan negatively impacts your credit score. The default indicates a serious delinquency and a history of poor credit management that causes lenders to consider you a greater risk to extend a loan to. Repairing your credit takes a renewed commitment to paying your debts and won't happen overnight. However, you can take some measures that will improve your credit profile more quickly.
Settle Student Debt
The best way to repair your credit is to pay off the loan. Paying the account indicates that you can be counted on to pay what you owe. It also reduces the amount of debt you're responsible for, which boosts your credit score. The sooner the loan is paid off, the sooner it falls off your credit report. Should that not be realistic, you can rehabilitate your federal Federal Direct Loan or Federal Family Education Loan by making nine to 12 consecutive on-time payments. This removes the default status from your loan as reported to credit bureaus.
Correct Mistakes
If the default is being reported in error, you'll need to correct it. Get proof from your school's registrar that you've been attending school on at least a part-time basis to correct attendance errors that could make your bills come due too soon. If you have a deferment or forbearance that isn't being applied, contact your loan servicer with documentation that proves your case. Request that erroneous reporting information be removed from your credit report and get copies of the report from all three major credit bureaus afterward to confirm that occurred. You are entitled to a free credit report each year from each bureau through AnnualCreditReport.com.