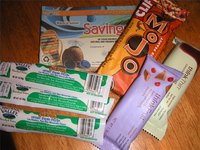 Getting free offers with grocery coupons can really help your budget when financial times are tough. Clif bars are a great way to have a healthy snack or a quick lunch. They can also help you stick to your diet by avoiding unhealthy snacks. They come in many varieties....but how do you get them for free? Read on to find out how to get them for free by following these easy steps.
Check out your local grocery stores to see which ones offer the free Mambo Sprouts coupon books. The Mambo Sprouts books offer several pages of grocery coupons. My local grocery store offers these on a stand near the organic foods section, so I pick up several every time that I buy groceries there. There is a new Mambo Sprouts coupon book for each season, so check back for new ones every few weeks. Coupons for groceries in each book will vary some with each issue. Check the links in the Resources section below to search for stores in your area that offer the Mambo Sprouts grocery coupons or sign up to receive a Mambo Sprouts coupon book in the mail several times a year.
Page through the current Mambo Sprouts book of grocery coupons to see which $.50 coupons there are for Clif Bars. There are normally a few different varieties of $.50 grocery coupons in each book. You can also look for additional Clif Bar coupons by searching for them online.

Visit your local grocery stores to see which ones offer double manufacturer's coupons. Many stores regularly double manufacturer's coupons up to $.50, making them worth $1.00 off. I have several larger grocery stores in my area that offer double manufacturer's coupons. Some of our other grocery stores have occasional triple coupons, so watch for those specials as well.
Check the weekly ads for the grocery stores in your area that double manufacturer's coupons. When Clif Bars that you have $.50 per bar coupons for go on sale for $1.00 each, it is time to get your free Clif Bars. I often find that our larger grocery stores have unadvertised Clif Bar sales for $1.00 each most weeks. Sometimes which varieties are on sale will vary, so make sure the sale is currently running on the Clif Bar varieties that you want to use your coupons for.

Buy your sale Clif Bars for $1.00 each and use your $.50 per bar coupons, using 1 coupon for each Clif Bar purchased. Your coupons will double and be worth $1.00 off each, making them free. I often buy additional items from the store at the same time.
Keep track of the dates on your Clif Bars and store your extras in a cool dry place. Shelves in your pantry or basement make a great storage location.