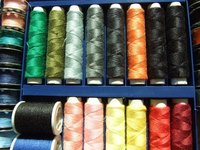 Sewing is the ability to graft two pieces of fabric together to create a coherent whole. A properly sewn garment can be a work of art as well as a practical shield against the elements. Teaching people to sew can help them gain practical skills as well as find an outlet for their innate artistry.
Things You'll Need
Make sure you have the right materials. Sewing requires needles, threads, thimbles and fabric. A sewing machine is also a useful to tool to teach people how to sew.
Examine all sewing items to make sure they are in good working order. Involve your students in this step. Needles should be sharp and not broken. Threads should not have knots in them. A sewing machine should be easy to thread and easy to peddle. Materials that don't function well can make lessons difficult to learn and to teach. A poorly working sewing machine will hinder learning skills.
Start with the basics. Teach students how to work a sewing machine. Walk them through the process of hand sewing. Have them practice straight stitches, whip stitches, tying off, edge stitching and hem stitching. Students should be able to thread a needle, push fabric through a sewing machine and pin fabric properly.
Teach students about fabric. Sewing isn't just about putting fabric together with a simple whip stitch. Sewing also requires a level of understanding about how fabrics fit well as well as an understanding of color use. A good sewer should know the differences between tulle and velvet, and how to use silk charmeuse to best advantage. Bring students to fabric stores. Have them hold the fabric in their hands and note carefully the differences between each bolt.
Give students lessons in human anatomy. To sew well a student will need to understand how the body moves. Hems need to be a proper length if they are to work. A sewer should know the relationship between the hands, arms and shoulders to set sleeves into a garment. A sense of proportion is important to sew well and make the resulting items look as good as possible.
Work on more advanced skills. Once students have mastered basics such as hems and patterns, they can advance to more skilled projects. Show them how to do French seams, how to make ruffles and lattice stitches as well as corded pin tucks. Cover pattern making and fluting. As their skills advance, have students make use of what they have previously learned.
Encourage students to further their education. Students who show real interest in and talent for sewing can think about making it their career. Fashion designers, sewing teachers, fashion stylists, clothes buyers and fashion merchandisers all make use of an understanding of how fabric fits together. A career in this field can be an ideal way for students to combine their love of their sewing with the ability to earn a living.