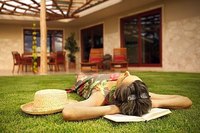 How to Do a Lease-Option on a Home. A lease-option is an agreement between a buyer and a seller that allows the buyer to lock in the future purchase price, save money for a down payment and buy the property in the future at current prices. It can prove to be a win-win situation.
Agree with the seller on a purchase price.
Agree on the term of the lease. This will be the maximum length of time you want the opportunity to exercise your option to buy.
Determine a market value for your monthly rent. (This is the amount a person would pay to simply rent the property.) Then add $25 to $200 per month to be applied toward the future down payment of the home. (This is not a requirement, but it helps you accumulate money for a down payment.)
Agree upon terms regarding the exercise of the option, such as the escrow period and financing.
Determine who will pay for inspections, work and warranties when the time comes to complete the purchase.
Go to your local Board of Realtors Association or real estate company and purchase a lease-option agreement form.
Handle the transaction as a lease until you are ready to exercise the option.
Exercise the option in writing.
Open escrow or contact a real estate attorney to handle the transaction.