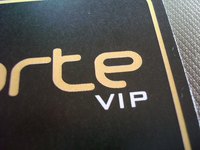 Custom-printed plastic VIP cards are great for any business interested in extending its image and marketing program by rewarding customers and employees with incentives that go along with this card. Several sites online make it easy and affordable for companies to create their own VIP cards. One such reputable site is my1stop.com. Custom VIP cards can be ordered with a minimum quantity requirement of 250 and prices starting around $300 that include shipping.
Things You'll Need
Navigate to my1stop.com. Click the "Plastic Cards" link under "Products" located in the left navigation of the page. Click the "Plastic Card Printing (see all)" link. Scroll down the page and click on "VIP Card Printing."
Select VIP card options under the "Quote & Order Now" tab located on the right-hand side of the page. Options include size, colors, magnetic strip, and more. Select the "Quantity" of your order (minimum quantity of 250) and enter your "Delivery Zip Code." After all of the information has been entered, you will be presented with a quote for your order. If you are satisfied with the quote, proceed by clicking "Add to Cart."
Review your order. Click "Begin Secure Checkout" to proceed with your order. Sign in if you have an existing account. If you don't have an account, click "Continue" under "Checkout Now Don't Create a New Account."
Enter your billing and shipping information and click "Purchase" to complete your order. After you have submitted your order, you will be sent a confirmation e-mail as well as instructions on how to send your custom artwork to be used on the VIP card.