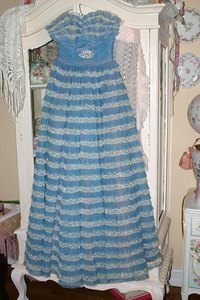 Prom may be one of the most memorable events of your high school experience. Naturally, you'll want to find the most memorable prom dress to match. It may be that that perfect dress is not available through a catalog or at the mall. If so, why not create your very own custom prom dress online? Designing your own unique prom dress can be fun, easy and affordable.
Things You'll Need
Computer
Internet connection
Measuring tape
Credit card
Find a website, such as www.cocomyles.com or www.peachberserk.com, with a formal dress designing tool.
Select a bodice and skirt for your prom dress to suit your style and figure. For instance, you can pair a strapless top with a glamorous ball-gown skirt, or an empire waist bodice with a simple and elegant straight skirt.
Choose the fabric for your prom dress. Common materials include satin and charmeuse. At the same time, choose the color you would like your prom dress to be. You may wish to wow them all in bright red or classic black. The choice is up to you.
Add detailing and accessories. Many websites will offer a choice of beading patterns, bows, prints, sashes and shawls to further customize your look. Note that additional detailing and accessories may substantially raise the price of your dress.
Use a measuring tape to measure your chest, waist and hips. Compare these measurements to those listed on the website's size chart in order to ensure the best fit. Some websites will ask you to input these directly.
Follow the website's directions for ordering your prom dress. As it may take several weeks for the dress to make it to your doorstep, make sure to order well in advance.