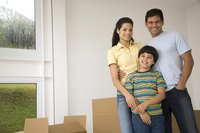 Your credit score as calculated by Experian helps determine whether you qualify for auto loans, mortgages and credit cards. Credit scores range from 300 to 850, and you need a score over 700 for the best access to credit. Fortunately, you can raise an Experian score that's too low with responsible credit management over time. Although each case is different, Experian makes several recommendations on how to increase your score.
Keep an Eye on Due Dates
On-time payment of all your bills is the No. 1 factor in a good credit score, according to Experian. In general, 35 percent of your score is based on payment history. Debt totals count for 30 percent, and length of history counts for 15 percent. New credit and types of credit count for 10 percent each. Late payments -- or worse yet, letting bills go into collections -- hurt your credit and keep your scores low. Don't think only the big bills matter. The effect of late payments is just as harmful with small bills.
Minimize Balances and Total Debt
To improve your scores, keep your outstanding balances low on credit cards and other revolving accounts. Revolving accounts are those that don't have a fixed payoff date and allow you to borrow more while you're making payments.
Also, lower your total amount of unpaid debt. This means you can't shuffle debts around by moving them from one credit card to another. You must actually pay debts down to see a positive effect on your credit score.
Open and Close Accounts Wisely
Experian recommends opening new credit accounts only if you actually need them. Trying to increase the variety or mix of your credit accounts won't help your scores. New applications appear on your credit report and give the impression you want to take on more debt.
In addition, don't close dormant accounts in an effort to raise your score. This strategy may backfire. If you end up owing the same amount to fewer lenders, you'll have a higher balance-to-credit limit ratio. A high ratio typically lowers your credit score.
Look for the Right Help
If you're getting behind on bills, Experian recommends asking your lenders for an easier payment plan or lower interest rate. Contact nonprofit credit counselors for help in establishing a budget and managing your debts.
Don't use credit repair clinics that charge high fees for removing false information from your credit report. If your Experian report contains false information, you can dispute it for free on the Experian website.
Exercise Patience
It takes time to improve your credit score, because it's based on your entire credit report. You'll have to wait for negative information to fall off your report and for positive information to replace it. Credit inquiries, for example, stay on your report for two years, while late payments and most items of public record stay there for seven years, according to Experian. Tax liens and bankruptcies can take up to 10 years to expire.