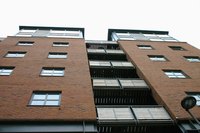 Rental property income is taxable, and calculating the tax in advance is helpful, because you'll need to have the money to pay the tax bill when it comes on April 15 each year. If your rental property is owned by your LLC, the rental income is treated as your income and would be calculated the same way.
Total your annual rental income. This figure should include all rent received, along with any rental-related fees you collected, such as security deposits and late fees.
Download IRS Form 1040 Schedule E from IRS.gov. Enter the total amount of rental income calculated from Step 1 on Line 3. If your rental property is royalty property, enter the total income generated on Line 4.
Calculate your total rental property expenses for each category listed in Lines 5 through 18 of Schedule E. (i.e., total insurance costs, total maintenance costs, total utilities and so on). Fill the appropriate expense total in each line.
Add Lines 5 through 18 and enter the total amount of all rental property expense on Line 19.
Figure any depreciation costs of your rental property and enter that amount on Line 20. Add Lines 19 and 20 together for your total rental property expense and enter that amount on Line 21.
Subtract Line 3 from Line 21 and record your rental income or loss on Line 22. Consult and fill out IRS Form 6198 if your taxable income on your rental property resulted in a loss if necessary. Enter the loss in Line 23 of Schedule E (if applicable).
Write your total rental income in Line 24, your total rental loss in Line 25, subtract Line 25 from Line 24 and enter the total amount in Line 26. This is your taxable rental income for tax year 2010.
Transfer your taxable rental income to Line 17 on your 1040 form, or Line 18 on your 1040-NR form.