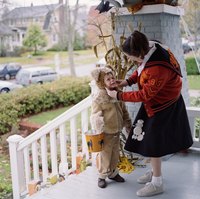 Sport 1950s looks for a costume party, retro-style cocktail party, vintage car show or even for everyday wear. Depending on the event, 1950s looks can be casual, semi-formal or formal, and can be styled to suit someone of any age. Pull out your petticoats and grease your pompadour to do '50s style with style.
Sock-hop Style
If you're aiming for a sock-hop style, look for a circle skirt and pair it with a fitted top, either a close-fitting crewneck sweater or a button-up blouse tied above the waist. Embellish the skirt with appliques for a whimsical touch, like the classic fuzzy pink poodle seen on period poodle skirts. Add bobby socks and canvas sneakers or saddle shoes. This look is all about sweetness and innocence. Keep your makeup light and delicate. For guys, slacks and a button-up shirt and v-neck sweater combo is a classic for the clean-cut set. Go with a fresh shave and neatly smoothed-back hair with a high-shine pomade.
Get Greased
If you're aiming for less clean-cut and a bit more rough-and-tumble, opt for a greaser look. For guys, this means jeans, cut straight and long, then worn rolled. Add a white tee shirt, tucked in with a belt. The classic motorcycle jacket in black or brown leather finishes this look. This is the time to pull out the pompadour style if your hair has enough length, and there's no need for a fresh shave. Women can pair a snugly fitted sweater or blouse with tight capri-length jeans for summer wear. Skip the sweet pastels in favor of bolder and stronger colors, both in your clothing and makeup. Wear a red lip and classic black eyeliner with this look.
Garden Party Glam
Channel the styles of the city in the 1950s for a dressed-up, but not overdressed look. For women, this means a full-skirted dress with a tightly nipped-in waist, kitten heels, and maybe even a dainty hat. To get the best effect, add a petticoat under the dress. A very fitted wiggle dress with a pencil skirt or skirt suit with a fitted jacket and pencil skirt is a period alternative. Regardless of whether you opt for a very full or slim skirt, the waist should be strongly emphasized, with a distinct hourglass silhouette. A red lip, black liner and matte skin complete the look. For men, this means a suit and tie. Don a double-breasted jacket and a slender tie, with neatly slicked-back hair and polished dress shoes.
Cocktail Chic
For a more formal event, 1950's style is a natural. For both men and women, the silhouettes are similar to the daytime looks with some changes in cut and materials. For women, dress bodices may show more skin, with a halter or strapless cut, and petticoats are a must. Heels can be higher and makeup somewhat bolder. Hair, whether worn long or short, should be curled for evening. For men, the suit should be dark, preferably black, worn with a crisp white shirt, silk tie and pocket square.