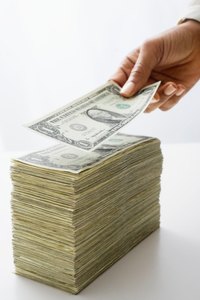 Everyone could use a little extra cash! This article discusses the many ways people can make legitimate cash in their spare time!
Things You'll Need
Clear understanding of your schedule and all limitations (time, mental, physical, etc.)
First grab a pen and a piece of paper. At the top write down your unique situation such as: "I am a broke college students that needs $200 extra a month for my car payment." OR "I am a stay at home mom with small children that could use $400 extra a month." Whatever your situation write it down!
Take a cold, hard look at your schedule. Is your schedule flexible enough to allow you to work one, two, or three days a week? What about a few hours in the afternoon? What about weekends? Can you work nights?
Sit back and consider what you're good at. Can you cook? Do you like to clean? Can you help tutor people? Can you keep children? Are you good with people? Do people always comment on how organized you are? Do you like to write? Write it down!

Take inventory! Is there anything you can sell? Are there any services you can offer such as babysitting, pet sitting, house sitting, answering phones, organizing files, freelance writing, house cleaning, or cooking meals? Could someone use your services? Try advertising with flyers at your local grocery store and see what kind of responses you get!!

Consider if you can rent anything such as a spare bedroom, your basement, even your garage! People are always looking for an inexpensive place to live!

Get creative! What do you like to do? Paint? Well, why not sell your artwork over the internet? Do you like to cook? Why not cook a few meals a week and see if anyone would like to buy? You'd be surprised at how often a secondary business or hobby often becomes an excellent source of primary income! Keep your mind open to all kinds of possibilities! There are hundreds of ways to make a legal, secondary income!!