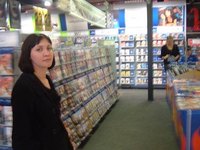 Even in the age of the Internet, movie rental stores continue to attract new customers. A movie rental store can be a great business opportunity and a great way to do what you love if you are a movie buff. Getting your movie store started is not as hard as it seems.
Acquire a retail storefront to conduct business from. You do not need to purchase the property; you can simply lease it. Contact a local real estate agent to find a storefront property that fits your budget. Strip malls and retail outlets next to high-traffic businesses are the best way to attract new customers.
After acquiring your property, contact your local business licensing division to obtain a business license. This process is fairly simple and usually requires only a small fee ($50 to $100).
Get equipment. You will need to purchase or lease racks and shelves to display your movies, a minimum of one cash register for check out, and retail counter space. A display board that allows you to announce your new arrivals and prices is also recommended.
After your equipment is set up, acquire movies to stock your business with. Start with older movies if you are on a limited budget; bulk DVDs and videos can be purchased fairly inexpensively if they are not new releases. If you want to stock new-release films, acquire a supply contract with a DVD distributor. The distributor allows you to order new releases and lets you customize your inventory to your projected customer base.
Open for business. Make sure your storefront has a sign displaying your business name and telephone number. To spark consumer interest, place an ad in the local newspaper.