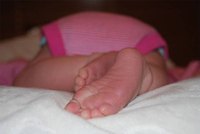 Babies can develop a number of skin irritations and rashes---everything from the common diaper rash to scabies. These may start with a spot, then spread all over your baby's bottom. It's important to know when to call the doctor, when to apply ointment and when to just leave the skin alone.
Examine your baby's skin condition. Take note of any discoloration, bumps or other surface abnormalities.
Look for raised patches of scaly, thick red skin or lesions that can develop anywhere but often occur on the scalp or the arms and legs. This may be psoriasis, an inflammatory disease that sometimes affects children. Your child may also experience pitting on her nails.
Recognize diaper rash. If your baby has a red irritation in her diaper area with pimple-like dots this is probably diaper rash. This may also be accompanied by the smell of urine. Keeping the area as dry and clean as possible and using a safe topical cream can help a diaper rash.
Notice if your baby has a dry, flaky scalp. This is probably a harmless condition called cradle cap. His head may also have patches of crusty skin or scales present, but rest assured that while it may look bad, it usually clears up on its own.
Look for a bright red rash in the diaper area. This may be a yeast infection rather than a simple diaper rash. If your baby's diaper rash doesn't respond to normal treatment (keeping the area dry, exposing the area to air, using plain water to clean the baby, applying topical creams for diaper rash) his rash may actually be a yeast infection. This will require a prescription topical cream from your doctor.
Consult your pediatrician or a pediatric dermatologist if the rash persists for several days or or causes pain to your baby. A doctor can tell you if treatment is needed and may prescribe a topical cream.