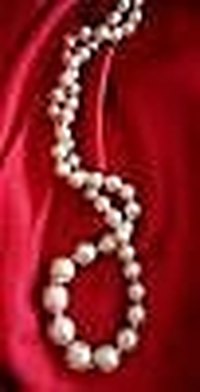 If you want to wear pearls in ways that give you a modern, fashionable look, there are many different things you can do. Pearls are beautiful and are no longer meant to be kept away for special occasions. Use the following steps to modernize your pearl wardrobe and to wear pearl necklaces in updated ways.
Purchase a pendant with a large bail or an enhancer to wear on your string of pearls. If you choose a silver antique looking enhancer, it will give your necklace a casual air and you could very easily wear it with a crisp white shirt and faded denim jeans.

Mix in colored strands of irregular beads or stones in different lengths with your pearls and accessorize both casual and dressy outfits with these.
Add elongated, graduated pearl earrings to your pearl wardrobe. These will add an extra flare to your jewelry wardrobe and move you away from the traditional pearl stud earrings.

Purchase pearl strands in different colors, with different sized pearls that are both irregular and regular such as coin and baroque pearls. Twist these in with your classic strand of pearls to make a modern looking torsade.

Twist your pearl necklaces into a pretty bracelets that you can wear layered with a fashionable watch.

Dress up your pearls. Wear them with high heels, a chunky silver bracelet and a beautiful dress on a dressy night out. If you wear modern accessories, you will be able to incorporate simple pearl necklaces into every day looks and wear pearls fashionably.