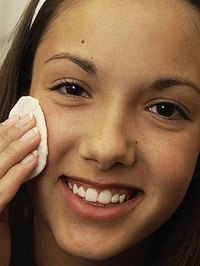 Its impossible to count all the wonders that nature has given us. But some of those wonders shine just a little brighter than the others. Like, the Apple. Its juicy, tasty and as the saying goes " An apple a day keeps the doctor away"....Not to mention acne and black heads! Yes! It's true. A simple apple is the answer to all your breakout nightmares. How you ask? The Malic acid in apples can remove dead skin cells and help the skin to renew itself, making it glow. Add a little sugar into the equation, and it will polish away rough spots: leaving your skin feeling smooth and doll-like. Sprinkle a little olive oil on top and it will remove free radicals, provide UV protection and seal the moisture into your skin to prevent drying and wrinkles!! And there you have it. Youthful, pimple-free, glowing skin without buying 20 different products. So put a side your Neutrogena and Clearasil for a day and try an apple!
Things You'll Need
1) 1 Fresh Pureed Apple or 2 table spoons of sugar free apple sauce.
2) 1 Table spoon of Table Sugar
3) 1 teaspoon of olive oil
4) A Small Bowl
Make sure you cleanse your face first with a mild facial cleanser. This is going to help the apple scrub to work more effectively. Start by mixing all of the ingredients together in a small bowl.
Apply the mixture with your fingers onto your dry skin in a circular motion. You can apply it to your whole face or just to the areas where breakouts are the most common. You should feel a mild abrasive scrubbing on your skin. But, This is a good thing. It means you are removing dead skin cells and regenerating your skin.
When you are finished, wash your face with luke warm water and pat your face softly dry with a towel. If you touch your face, you'll immediately see the difference. It should feel smooth and soft. I recommend that you use this scrub daily for lasting results.
And always remember...Beautiful skin starts with healthy skin. So take care of your body by drinking plenty of water and eating healthy foods. Your skin will thank you for it.