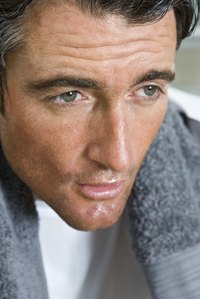 Hot summer days and nights make you sweat and stain your clothing. Sweat stains can appear on any color clothing, but they are more noticeable on whites. You may be too embarrassed to ask your friends how to solve your dilemma, but these tips and tricks can help. Instead of tossing the shirt away, get rid of the sweat stains using ingredients you typically already have on hand in your bathroom or kitchen.
Things You'll Need
1/8 cup white vinegar
2 cups water
Baking soda
Hydrogen peroxide
Use 2 teaspoons of two to three percent hydrogen peroxide poured directly onto the stained area of a white shirt -- don't use this process on a colored shirt, as it will damage it. Gently rub the area well. Allow the peroxide to sit for 30 minutes. Launder as usual, leaving the shirt to air dry.
Form a paste of baking soda and water. Apply it to the stained area. Gently rub the paste in. Allow the baking soda paste to sit for 30 minutes. Gently scrub the area with a scrubbing brush or sponge and launder as usual.
Make a solution of white vinegar and water. Pour the solution onto the stain. Gently rub it in. Let it to sit for 15 minutes. Launder as usual.
Squeeze fresh lemon juice onto the stain, or use bottled lemon juice. Gently rub the juice in. Let it to sit for 20 minutes, leaving it to dry in the sun. Launder as usual.