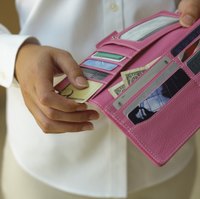 Getting control over your money is the first step to financial freedom. Whether you're fresh out of college or you're getting close to retirement, it's never too soon or too late to learn how to manage your finances. Taking an active role in determining where your money goes can help you to get out of debt, build up your savings and make progress toward your future goals.
Budgeting Basics
To effectively manage your finances, you need to have a realistic budget in place. A budget is simply a written plan for how you spend your money each month. Creating a budget involves three basic steps. First, you total up all the money you receive each month from income, investments, child support and other sources. Second, you make a list of all your monthly expenses, including your rent or mortgage payments, utilities, grocery bills, transportation costs, debt payments, clothing and entertainment expenses. Finally, you compare the list of expenses to your income. Ideally, your expenses should be well below your income each month.
Cutting Costs and Saving More
If your expenses exceed your income, you'll need to find ways to cut your spending. A helpful way to see where your money is going is to keep a written log of your expenses. Once you've identified expenses that are eating into your bottom line, you need to be aggressive in reducing them or eliminating them altogether. You should also go over your fixed expenses, such as cable, Internet or utility service, to make sure you're not paying for services you don't need. You can then redirect this money towards paying down debt or building up your savings.
Managing Debt
Credit cards are useful if you know how to use them properly, but they all too often become a debt trap. If you have debt, paying it down should be your top priority. If you have high-interest credit card debts or loans, you'll want to pay these off first. The less interest you have to pay, the more money you can save. Secured debts, such as a car loan, should be next on the list, followed by medical bills and student loans. After these debts are paid off, you can begin aggressively paying down your mortgage, if you have one.
Planning Ahead
When you begin to take control of your finances, it's helpful to make a list of short and long-term goals that can serve as a financial road map for the future. Some examples of goals you may have include paying off your debt, saving for a down payment for a home, planning for your retirement, saving for a vacation or starting a college fund for your children. When establishing your goals, make sure that they're realistic and create a specific plan of action for achieving them. When you reach a milestone, review your goals to make sure they still fit your lifestyle.