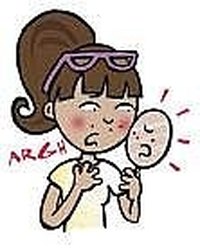 There are ways to fight back against pimples. There may be things in your home right now to help fight the front lines of acne eradication.
Things You'll Need
arm & hammer
colgate toothpaste
vicks vaporub
preparation h
hydrogen peroxide
kiwi white liquid shoe polish
dickinson's witch hazel
lipton tea bag
phillips milk of magnesia
oatmeal
Arm & Hammer baking soda can be used to exfoliate dead skin cells, and to loosen blackheads. Pour a small amount of baking soda into a small dish, add just a little water to make a paste. Dab a small amount of paste on pimples and let sit for a few minutes. Scrub your face gentle with more paste. Rinse your face completely and pat dry.
To dry pimples quickly, try applying Colgate regular toothpaste on the blemishes. Or you can use Crest regular toothpaste to a pimple, then cover with a band-aid and go to bed. In the morning the swelling should have dissipated.
Vicks Vaporub will help to dry up pimples if applied to the blemishes. Apply nightly for a week.

Preparation H reduce the swelling of pimples and speeds up healing.

Hydrogen Peroxide is very good for cleansing your pores, to reduce pimples forming.

Believe it or not, but Kiwi white liquid shoe polish will dry pimples and help bring them to a head.
Often pimples are caused by excessive oil in the skin. Dickinson's witch hazel is very good in removing oil.
Dampen a Lipton Tea bag with hot water and apply it over the pimple as a compress, this will help it come to a head quickly.

Phillips' milk of magnesia can be used as a facial mask to help dry up excessive oil, which is the cause for many pimples.

Mix a bowl of oatmeal, let it cool completely then spread over the acne area. Cover with a clean damp wash cloth, leave on for 15 minutes and then wash off. Repeat every day for one week