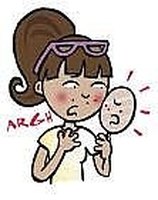 There are ways to fight back against pimples. There may be things in your home right now to help fight the front lines of acne eradication.
Things You'll Need
arm & hammer

colgate toothpaste

vicks vaporub

preparation h

hydrogen peroxide
kiwi white liquid shoe polish

dickinson's witch hazel

lipton tea bag

phillips milk of magnesia

oatmeal
Photo Credit christinas-home-remedies.com,quickandsimple.com,dollardays.com,breastfeedingmums.typepad.com,health-care-beauty.com,nachofoto.com,lakatos-shoerepair.com,flickr.com,flickr.com,meamed.com,echohive.com
Promoted By Zergnet
Is Vicks VapoRub Addictive?

A staple for many cold sufferers since the early 1900s, Vicks VapoRub is still a popular choice to relieve a cough or...

Home Remedies for Body Acne

Acne can appear anywhere on the body, including the face, neck, chest and back. While treating facial acne can be done fairly...

Alternative Uses for Vicks VapoRub

There are only two authorized ways to Vicks VapoRub. The first is for coughing and congestion where it is applied to the...