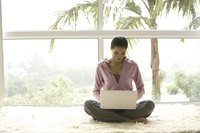 Credit cards and utilities aren't the only bills you can pay online: If you need to make estimated tax payments during the year -- such as if you have self-employment income, investment income or other taxable income that isn't subject to tax withholding -- you can pay online through the Electronic Federal Tax Payment System, or EFTPS, rather than having to mail in a check and a printed Form 1040-ES voucher every three months. The EFTPS accepts payments from your bank account or credit card, but a processing fee applies if you pay by credit.
Estimated Tax Payment Dates and Amounts
Estimated tax payments are due on April 15, June 15, September 15 and January 15 of the following year. By paying online, you can set up payments to be made automatically on the payment due date for the entire year so you don't forget. Unless you have a cyclical business that has varying income over the course of the year -- and you want to fill out extra tax forms to prove it -- you should make four equal payments, one on each deadline. This way the total equals at least what you owed the prior year or 90 percent of what you owe for the current year. For example, if you owed $8,000 in total federal taxes last year and pay $2,000 each quarter this year, you won't owe any interest or penalties for underpaying your estimated taxes.