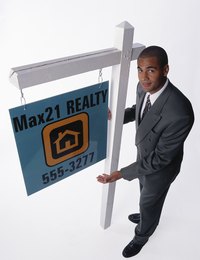 Buying a house is the largest purchase you most likely will ever make. Selling that home is an exciting and scary proposition. Your mind is filled with questions about how long it will take to sell, whether you'll get close to your asking price and how to choose a realtor. The right realtor helps you navigate the sale of your home in rough and calm seas.
Go online to real estate sites that list homes for sale, sold homes and foreclosures in your neighborhood. Write down the real estate firms that sold those homes and their phone numbers. Search for "+real +estate +agent +your city." Scan the listings for sale pendings and sold close to where you live. Write down those firms and the addresses of the homes.
Scan the local newspaper for real estate ads in your neighborhood. Make a note of the agency with the most ads.
Drive around your neighborhood and look at house-for-sale signs. Call and make an appointment to view a home. Note how the agent conducts herself, how knowledgeable she is about the neighborhood and the house. Bring up objections and see how she reacts.
Ask friends, neighbors, your attorney and accountant for recommendations.
Write down the names of the top three or four firms and agents based on the number of homes sold in the last 12 months and the referrals you've received.
Call the agents you've selected and ask if they would be interested in listing your home. They will most likely say yes. Set up appointments at least two hours apart. You don't want two agents to overlap.
Research recent home sales in your area through online real estate sites. Write down the address of every house that has sold in your neighborhood, the selling price and the square footage. Make notes if they have certain amenities such as a fireplace or pool that you don't and vice versa. Calculate the average selling price per square foot and multiply that times the square footage of your home. This gives you a ballpark home value.
Interview each agent. The agent will probably come with a notebook of comps -- comparables of homes sold -- along with a list of what he does to market the home, a list of current homes for sale and recently sold homes. Ask what sets the marketing plan apart from other real estate agents.
Ask how many new homes each agent lists per month. Ask how many homes they've sold in the last three, six and 12 months. Some agents concentrate on building up their listings and depend on other agents to sell the houses. Ask how many listings have expired without being sold in the last three, six and 12 months. Inquire how close the selling price is to the listing price of homes they've sold.
Compare the listing price they recommend for your home with the ballpark home value you calculated. If the agent's price varies by more than $10,000 or so ask what she based it on.
Choose the agent you feel comfortable with and who answered your questions to your satisfaction. If you're looking for a fast sale, you want an agent who has a high level of productivity. If you want the most money for your home, choose the agent with the best sold price to listing price comparison.