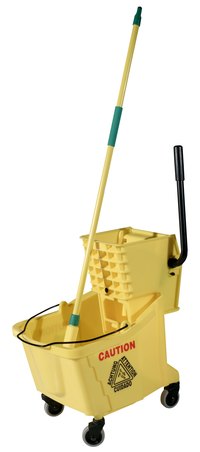 Opportunities to make money with a cleaning franchise are widely available for the simple reason that there is always a need for cleaning services. Cleaning franchises can be a great opportunity for people looking for a low-cost business that they may run from their homes.
Be sure a cleaning business is for you. This type of franchise can be a lucrative business that may not require prior experience. Many cleaning franchises may be run part-time and out of your home. A few require that you open a business office.
Check out the wide variety of cleaning franchises and see which one is a good match with your experience and abilities. Keep in mind that although in some cases the franchise company will expect you to run the franchise and not do actual cleaning, you need to have a good understanding of the business.
Research available opportunities. Review articles on Entreprenuer.com, which tends to offer more objective reviews. Check out other websites, being alert for advertorials. Look for answers to the following questions:
Does the franchise offer a system that works, including a famous brand name, training, and help finding customers?
Is this a business you could start yourself without a franchise agreement?
What kind of territory will you be given to run your business?
Talk to a franchise broker for ideas on cleaning franchises in your area. Research cleaning franchises in your area. Check out your local yellow pages. Also look for local cleaning franchise listings on the Internet.
Write up a business plan that covers your investment, staffing, and record keeping for the franchise you are thinking of buying.
Talk to the franchise company and get a franchise agreement and figures on franchise fees and your initial invesntment. Research fully whatever territory you are offered -- a low-ball offer could be a dud area the franchisor is trying to unload.
Carefully review the Franchise Disclosure Agreement before your sign anything! Under the law, you must receive a franchise disclosure document (FDD) at least 10 days before you sign anything or pay any money. This agreement must list names and addresses of current franchisees and those who left the business over the last year. Try to contact these people and get their views on the franchise. See if a current franchisee will let you "shadow" them during part of their work day.
Manage for success. Once you have your franchise, aim on building content clients and a reliable work force.
What if you want to try another franchise? There are many other possibilities. See links below.