Start to Finish: 30 minutes Servings: 6 Difficulty Level: Beginner
Transforming boxed cake mix into cookie dough requires you to simply reduce the volumes of wet ingredients you are instructed to use for a cake. Cake-mix cookies are just as customizable as cookies that you prepare from scratch. Chocolate chips, sprinkles, chopped nuts and crushed candy pieces blend into the dough well.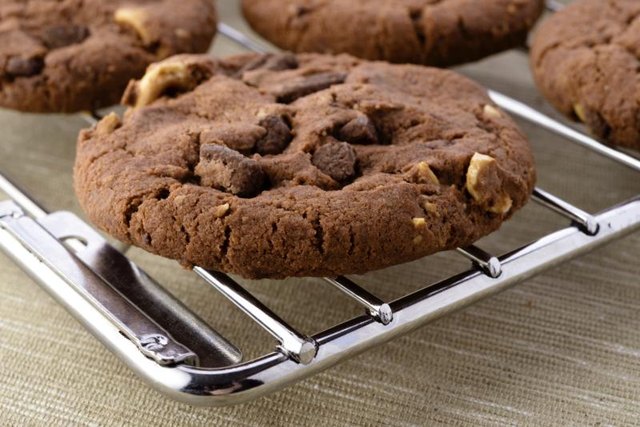 (sergeyskleznev/iStock/Getty Images)
18.25-ounce box chocolate cake mix
2 eggs
1/2 cup vegetable oil or softened butter
Chocolate chips, sprinkles, chopped nuts or candy, optional
Parchment paper
Blend chocolate cake mix, eggs and oil or butter in a large bowl with an electric mixer or wooden spoon. Beat the ingredients until all the cake mix is wet and no large lumps remain.
Stir in mix-ins -- chocolate chips, sprinkles, chopped nuts or crushed candy pieces -- with a wooden spoon, if desired. Use about 1/4 to 1/2 cup of mix-in ingredients, depending on your preference.
Line a cookie sheet with parchment paper to prevent the cookies from sticking to the pan.
Scoop 1 tablespoon of cookie dough out of the bowl. Roll it between your palms gently to form a ball; place it on the cookie sheet. Continue forming balls of dough, spacing them about 1 to 2 inches apart on the pan.
Place the cookie sheet in an oven preheated to 350 degrees Fahrenheit. Bake the cookies until the edges start to become golden brown, approximately 8 to 10 minutes.
Remove the cookies from the oven. Let them cool on the cookie sheet for 3 to 5 minutes so they don't break when you move them.
Transfer the cookies to a wire rack to finish cooling.
Roll balls of dough in sprinkles or sanding sugar to decorate the surfaces of the cookies, if desired.
Top each cooled cookie with a swirl of frosting, if desired. Blend 1 3/4 cups of powdered sugar, 1/4 cup softened unsalted butter and 1 tablespoon of milk or cream to create a simple buttercream.
Flavor buttercream with 1/2 teaspoon of vanilla extract or 1/3 cup of cocoa, if desired. Offset the dryness of cocoa powder with 1 to 2 extra tablespoons of milk or cream if you prepare chocolate buttercream.
Refrigerate the cookie dough for 30 minutes to 1 hour if it is too soft or sticky after you mix it. Chilling the dough should make it more firm. Incorporate 1 teaspoon of all-purpose flour into the chilled dough if it is still too soft to handle.
Store frosted or unfrosted cookies in an airtight container at room temperature for up to 5 days. The sugar preserves the dairy products in frosting, so it is safe to keep frosted cookies at room temperature.
Promoted By Zergnet