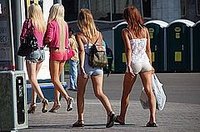 Shorts are in style right now but to wear short shorts you must decide how short you want to go. The trick is to flatter your shape and size. Balance the top with accessories up or down accordingly. Look in the mirror before you buy or go outsider. Might want to save the short shorts for jogging only.
Things You'll Need
See yourself in the mirror from all angles. Check out how you look from the back. If you see bumps or veins - go longer. When trying on shorts at the store do some deep knee bends, sit down, stand up a few times. Do the shorts run up your crotch? Do your legs come out from the sides? Might want to go for a bigger size or longer length. Short shorts have about a 4 inch inseam. If the shorts you have to wear are too tight, too tight, forget it.

You might want to wear tab front and trouser style waistband shorts. Try shorts with a 7 inch inseam. These shorts look good on most people and cover bumps and veins. You can always roll them up if the shorts are wide. Denim cut shorts are in this category and come in about 3 inches above your knee.

Don't go too long. Bermuda shorts are about 8 - 10 inches inseam length. These shorts might be too long for short people and make your legs look funny. Shorts are best about 2 inches above your knees.