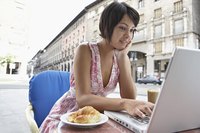 Imagine working on something once, but getting paid for the effort over and over again. That's the theory behind residual income. Authors and musicians enjoy this type of income once they publish and produce their books and music. Each time a book or song is bought, the author or musician makes money. You can create residual income as well using the Internet by creating and selling information through digital products such as ebooks, audio and video. However, despite what some Internet gurus might have you think, creating residual income online isn't automatic or something what will make you rich quickly, if at all.
Things You'll Need
Computer
Internet connection
Word processing program
Audio recording and editing tools
Video recording and editing tools
Brainstorm on topic ideas that you're knowledgeable about. Include ideas from your education, work, life and hobbies, such as how to pay for college as a C student, dealing with difficult bosses, feeding a family of five for only $30 a week or organic gardening.
Do a keyword search at Google's Adwords Keyword tool to find out how popular your ideas are. This tool will tell you how many people did a Google search on your idea and what keywords and phrases they used to search the idea. Jot down the terms that have several thousand searches or more per month.
Visit online forums and groups related to your idea to discover what people are talking about related to your idea. Find out what questions they're asking and what concerns they have. This will help you determine what type of information product you should put together.
Create a digital product that provides the information and resources you discovered people are looking for in step 3. The easiest product to create is an ebook. Write down information about your topic and provide the tips, how-tos and resources people need. You can use a free PDF maker online to convert your document so that anyone with a computer or ereader can read it. Or consider selling it through an epublisher such as Amazon's Kindle Direct Publishing, Barnes and Noble's Pubit or Smashwords, which distributes to many ebook retailers.
Set up a website or blog if you plan to sell your information product yourself. Purchase a domain name and webhosting. Most webhosts offer one-click installation of a blog or easy templates to create your site.
Sign up for payment processing. Paypal is free and easy to use. Or use a resource such as ClickBank, which has a fee, but allows other website owners to promote your product in return for a commission. This can increase your sales off of other people's work, creating more passive, residual income.
If you want to sell your book through Amazon or other ebook retailers, visit the retailer to get directions on formatting and uploading your book. Amazon, Barnes and Noble, and Smashwords are free to use, but each has its own requirements for submitting your ebook.
Market your ebook or other digital products through a variety of strategies such as a website or blog, writing articles for other websites or blogs, social networking, podcast interviews, online advertising and public relations.