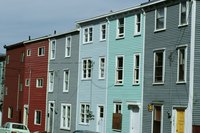 If you need another place to live but money is tight, there is no need to despair. Viable housing options still exist for you; it is just a matter of knowing where to look. Take your time and follow a few tips and you will eventually find a place that meets your needs.
Look for information available through the U.S. Department of Housing and Urban Development, HUD (see Resources). The HUD website contains considerable information to help you decide whether owning or renting an apartment or house is best for your situation. HUD counselors are trained and kept up-to-date on the ever changing laws and policies.
Look at your state's official website for housing finance agencies. The housing finance agencies will give qualified individuals some financial assistance to avoid foreclosure.
Complete applications for low-income housing programs in the areas where you want to live. You will remain on a waiting list perhaps for some time, but at least you can get the process started while you look for other low-income housing.
Contact a Habitat for Humanity office, if one exists in your general vicinity. Get information on local eligibility requirements to apply for housing.
Obtain renter guides in your local convenience store or gas station. Renter guides can save you a lot of research time. You can look for apartments by rent category and you can look only within a certain dollar range that you can afford. You will not waste time and effort reading through countless announcements for apartments you cannot afford.