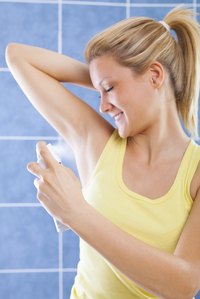 While sweating is inevitable, its odor can be unpleasant and certainly unwelcome. Although deodorant is one way to lessen and mask odor, antiperspirant is a similar tool that lessens the amount sweat, helping to keep odors at bay.
Selection
Selecting an antiperspirant is a trial-and-error process. Take into account the scents you like, and test out formulas ranging from glide-on gel or spray-on varieties. If you have an excessive amount of sweat and find regular antiperspirant doesn't help, try clinical-grade antiperspirants -- some are now available over-the-counter.
Application
Application of antiperspirant prior to bed is the best way to utilize the sweat-fighting aluminum properties in antiperspirant. Similar to lotion, antiperspirant seeps into the glands under your arms and helps stave off sweat. Nighttime application lets it sink in deeply for more effective sweat fighting throughout the day, even after showering. Apply again in the morning after bathing, and reapply nightly to clean underarms to control sweat.