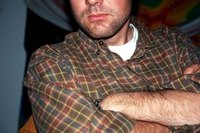 When you want a really close shave, consider purchasing a straight razor. Straight razors come in different types and sizes and are available online and in stores. Because there is such a variation in quality and style, careful consideration is important before you buy a straight razor.
Decide whether you want a disposable straight razor, replaceable-blade razor or classic straight-edge razor. Disposable razors can be thrown in the trash when the blade gets dull, whereas with a replaceable-blade razor, extra blades are purchased and replaced when necessary. Classic straight-edge razors are honed about twice per year to maintain sharpness; however, they should be stropped before each shave. Stropping requires a stropping belt and oil or paste.
Determine if you want to purchase a vintage straight razor or a new straight razor. Vintage razors are usually made of carbon-steel. They are generally easier to hone and sharpen, but they might not cut as well as newer razors. Newer straight razors have stainless steel blades. These blades are sharper than the older carbon-steel types, but they can be more difficult to sharpen when they become dull.
Consider the handle when purchasing a straight razor.The handle should be comfortable. According to Ray Dupont of ClassicShaving.com, a good handle will eventually change shape to fit the user's hand. Make sure that the blade and handle of the straight razor you are purchasing is balanced. A more balanced razor will deliver a closer and more consistent shave.
Inspect the blade before you purchase to determine if there are any nicks or scratches. Do not purchase a straight razor with imperfections because it might cause nicks an uneven shave or nicks in the skin.
Decide if you want a concave blade or a wedge blade edge on your razor. According to MensFlair.com, barbers generally use the concave edge so they can feel the resistance of the beard as they shave. They say that wedge edged razors are for those who tend to wait till their beard is longer to shave. The length of the blade can vary as well. Blade sizes include 3/3, 5/8 and 6/8 inch. The size you choose depends on your comfort level. A longer blade will cover more area, but a shorter blade will allow for more refinement.
Research price of the razor and cost of replacement blades or sharpening services. Prices for straight razors range from a few dollars to several hundred dollars. Straight razor sets often come with a set of razors for each day of the week. They might also include a shaving brush, cup and stand. Services that sharpen razors can cost as little as $20 to more than $100 depending on the quality of the blade.
You will need to purchase a strop and lapping paste to sharpen the straight razor. According to classicshaving.com, you put some paste onto the strop you are using to sharpen the straight razor. This will help fill in any existing voids that might inhibit sharpening, and condition the strop. Hang the strop according to package instructions or using a secure wall hook. Apply lapping paste to the entire strop surface and then wipe off excess with a cloth or paper towel until only a small amount of paste is left on the hone or strop. Premiumknives.com states that you should lay the razor on the strop, spine first, and then roll down till the blade touches the strop lightly. Hold the strop taut and with the spine of the razor two or more inches from each end of the strop, apply light pressure (just enough for the blade to stay in consistent contact with the strop) as you move the razor, spine first and parallel to the strop, back and forth along the strop surface. Pull from one end of the strop to the other, maintaining consistent contact and keeping the strop as taut as possible. Be careful not to cut the strop. Premium Knives recommends changing directions as you reach the end of the strop by rolling the razor on its spine and going the other way following the same procedure. Perform at least 10 passes on each side in order to sharpen the blade. Stropping should be performed before each shave.